Activities
The Micro Machining Group has been involved in the development and production of high-quality components for many years, thereby facilitating great achievements and breakthroughs.
The more specialised the requirement, the more the Micro Machining Group is in its element. The manufacture of such components is only possible when the most highly-skilled people are deployed in modern production facilities. At our production sites, we carry out all machining, mounting and assembly work, be it familiar or lesser known activities. Below you will find several examples of work on (assembled) products.
Product: Nozzle
Market : Medical market
Material: Austenitic steel
Processes: Milling
Heat treatment : none
Surface treatment : none
Size : 8 mm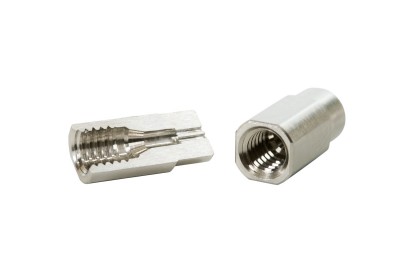 Product: Housing
Market: Oil and gas
Material: Titanium
Processes: CNC milling – 5-axis machining – deep hole drilling – 3D measuring
Heat treatment: none
Surface treatment: cleaning and clean packaging
Size: 150mm x 80mm
Product: Measuring Instrument
Market: Optical market
Material : aluminium and stainless steel
Processes: assembly, CNC machining, grinding and 3D testing
Heat treatment: none
Surface treatment: anodizing
Size: 40mm x 50mm
Processes
The Micro Machining Group is able to carry out a wide variety of types of processing and activities ranging from the most sophisticated machining processes to special cleaning and packaging. Following you will find a selection of frequently occurring processes, but of course we would also like to give you more information about our full range of services and options.
CNC Machining
5-axis Machining
CNC Milling
Assembly
General machining
3D-measuring
Gluing
Conventional processes
Cleaning
Machining high-vacuum parts
Proto-parts
Micro-machining
Electrochemical Polishing
Orbital Welding
Assembly
CNC milling on staff
Grinding
Contact
We would like to get in touch with you about your specific challenges and questions. We would be pleased to give you a call but if you wish to contact us directly, please do so via the contact page. CONTACT PAGE